The Scrubba wash bag is the best way to wash clothes anywhere, whether you are backpacking, camping, on holiday or need to hand wash at home.
It provides a machine quality wash in just minutes. Simply add water, clothes and cleaning liquid, close the bag and deflate. Rub the clothes against the internal washboard for 30s to 3min, rinse and hang to dry.
6 Easy Steps
1. FILL: Add cleaning liquid, 2-6 litres of water and clothes.
2. ROLL + CLIP: Roll down top 4-5 times and clip ends together.
3. DEFLATE: Twist the valve and press on the bag to expel excess air.
4. SCRUB: Press down and rub the clothes against the flexible inner washboard for 30 seconds to 3 minutes.
5. RINSE: Unclip and unroll the closure. Remove water and rinse clothes with fresh water in the bag or under a tap or shower.
6. DRY: Hang the clothes to dry! Or try the Scrubba wash & dry kit to par dry clothes and hang on a peg-less clothesline.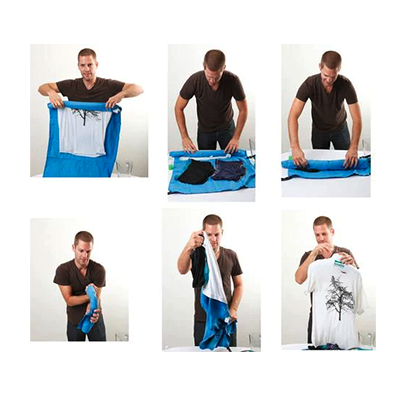 The Scrubba Wash & Dry Kit
Dry the clothes with The Scrubba Wash & Dry Kit. Par-dry the clothes by wrapping and pressing the clothes in the Scrubba towel. Hang clothes to dry on the Scrubba travel clothesline.
Shop Here